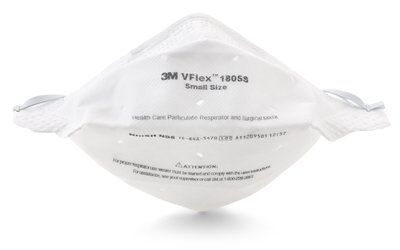 Overview
NIOSH approved: N95
FDA cleared for use as surgical mask
Fluid resistant and disposable
3M proprietary filter media and pleats help make breathing easier
Uniquely designed tabs for respirator positioning on the face
Pleats flex with mouth movement while talking
Flatfold design allows for convenient storage prior to use
This small-sized health care particulate respirator and surgical mask helps provide respiratory protection against certain airborne particles. The folded respirator expands for a spacious feel and the pleats help increase surface area for ease of breathing.
This disposable N95 Health Care Particulate Respirator and Surgical Mask is designed to help provide quality, reliable respiratory protection for Health Care workers. CDC guidelines state N95 respirators may be used for for M. tuberculosis exposure control.* As a disposable particulate respirator, it is intended to help reduce wearer exposure to certain airborne particles including those generated by electrocautery, laser surgery, and other powered medical instruments. As a surgical mask, it is designed to be fluid resistant to splash and spatter of blood and other infectious materials.
3M uses a variety of innovative technologies and features to help you meet your respiratory protection and comfort needs.
This smalL-sized economical flatfold respirator has the following features:
– NIOSH Approved N95
– FDA 510K cleared
– Fluid Resistant as tested per ASTM F1862
– Meets CDC guidelines for M. tuberculosis exposure control*
– 3M™ Advanced Electrostatic Media (AEM) -Highly charged microfibers enhance the capture of airborne particles while allowing you to breathe easier
– Pleats help increase surface area for ease of breathing
– Pleats flex with mouth movement while talking
– Adjustable noseclip helps provide a custom and secure seal
– Available in 2 sizes to fit a broad range of faces
– Tabs uniquely designed tabs for positioning the respirator on the face
Potential settings and applications may include: Operating Rooms, Clinics, TB Wards, Patient Care, Labor and Delivery, Infection Control Practices, Laboratory, emergency or pandemic preparedness planning, stockpiling, etc.
WARNING: These respirators help reduce exposures to certain airborne contaminants. User is soley responsible for selection of appropriate PPE equipment for the setting and application. Before use, the wearer must read and understand the User Instructions provided as a part of the product packaging and for ensuring proper donning and doffing.
NIOSH approved: N95
FDA cleared for use as surgical mask
Fluid resistant and disposable
3M proprietary filter media and pleats help make breathing easier
Uniquely designed tabs for respirator positioning on the face
Pleats flex with mouth movement while talking
Flatfold design allows for convenient storage prior to use
Specifications
| | |
| --- | --- |
| Aerosol Type | Non-Oil |
| Boxes per Case | 8 |
| Braided Comfort Strap | Yes |
| Brand | 3M™ |
| Cartridge or Filter Included | No |
| Exhalation Valve | No |
| FDA Cleared | Yes |
| Features | Advanced Electrostatic Media |
| Flame Resistance (ASTM D2859-96) | No |
| Fluid Resistant (ASTM F1862) | Yes |
| Natural Rubber Latex Components | No |
| Number per Box | 50 |
| Packaging | Bulk Case |
| Product Color | White |
| Product Type | Healthcare Respirator |
| Respirator Style | Flat Fold |