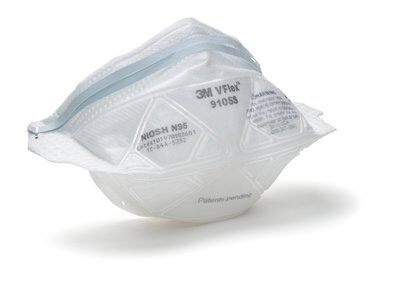 Overview
Small-sized economical N95 disposable particulate respirator
3M proprietary filter media and V-shaped pleats helps make breathing easier
Uniquely designed tabs for respirator positioning on the face
Pleats flex with mouth movement while talking
This small-sized economical disposable N95 particulate respirator has a unique folded design with V-shaped pleats that flex with mouth movement for easier talking and expand for ease of breathing.
This smalL-sized disposable N95 particulate respirator is designed to help provide quality, reliable worker respiratory protection for certain non-oil based particles. It has a unique folded design with 3M proprietary filter media and V-shaped pleats that expand to help make breathing easier. In addition, the V-shaped pleats flex with mouth movement for easier talking. The respirator features uniquely designed tabs for positioning the respirator on the face and embossed front panel to help the respirator retain its shape.
– Economical N95 disposable particulate respirator
– Designed for smalL-sized adult facial profiles; not approved for use by children
– Flat-fold design allows for convenient storage prior to use
– Adjustable noseclip helps provide a custom fit and secure seal
– Uniquely designed tabs for respirator positioning on the face
– Pleats flex with mouth movement while talking
– Spacious inside with comfortable inner layer
– Compatible with a variety of eyewear and hearing protection from 3M
WARNING: These respirators help reduce exposures to certain airborne contaminants. Before use, the wearer must read and understand the User Instructions provided as a part of the product packaging. In the U.S., a written respiratory protection program must be implemented meeting all the requirements of OSHA 1910.134 including training, fit testing and medical evaluation. In Canada, CSA standards Z94.4 requirements must be met and/or requirements of the applicable jurisdiction, as appropriate. Misuse may result in sickness or death. For proper use, see package instructions, supervisor, or call 3M OH&ESD Technical Service in USA at 1-800-243-4630 and in Canada at 1-800-267-4414.
Small-sized economical N95 disposable particulate respirator
3M proprietary filter media and V-shaped pleats helps make breathing easier
Uniquely designed tabs for respirator positioning on the face
Pleats flex with mouth movement while talking
Flatfold design allows for convenient storage prior to use
Specifications
| | |
| --- | --- |
| Aerosol Type | Non-Oil |
| Boxes per Case | 8 |
| Braided Comfort Strap | Yes |
| Brand | VFlex™ |
| Cartridge or Filter Included | Yes |
| Exhalation Valve | No |
| Faceseal/Nosefoam | Soft Material |
| FDA Cleared | No |
| Features | Advanced Electrostatic Media, Folded |
| Flame Resistance (ASTM D2859-96) | No |
| Fluid Resistant (ASTM F1862) | N/A |
| Individually Wrapped | No |
| Natural Rubber Latex Components | No |
| NIOSH Filter Approval Rating | N95 |
| Nuisance Odor Relief (< OSHA PEL) | N/A, No |
| Number per Box | 50 |
| Packaging | Bulk Case |
| Product Code | 9105S |
| Product Color | White |
| Product Type | Dust and other Particles |
| Respirator Style | Flat Fold |
| Shelf Life | 5 Year |
| Strap Attachment Type | Stapled |